My experience from the CSM training course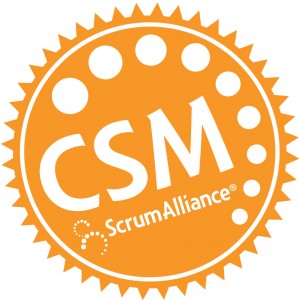 Before sharing my experience, I want to share the reasons that led me to do this training course.
After reading the book Scrum and XP from the Trenches (Henrik Kniberg) there were some topics that do not become clear. From this point I realized that this area fascinated me and I wanted to investigate further, that was when I bought other books (1) and knew that would happen a training course in Lisbon.
I didn't thought twice, it was the ideal opportunity to deepen my knowledge and be able to answer all my questions with Mitch Lacey, who has 15 years experience in this area.
The Experience
The place where the course took place was very nice (Restelo space in Lisbon), surrounded by nature with a relaxed environment. Mitch made the whole course using Scrum, each subject was a User Story, as the subjects were given was updating the Burndown Chart.
In the late morning and afternoon did the Sprint Review and Sprint Retrospective, was fantastic to see that Scrum not only applies to software development and can be effectively applied to various areas.
The way Mitch gave the course was fantastic, always in a relaxed and fun way, using case studies, sharing his experiences, doing exercises and games that helped to realize the whole process of the Scrum framework and all its roles, artifacts and meetings.
From my point of view, experiences shared by Mitch made all the difference and were quite important. These experiences are what really make the difference in attending a training course and read a book.
The games and exercises we did was an effective way to learn and be reminded of what is to be Agile, what is the role of ScrumMaster, the problems of multi-tasking, and the importance of communication, transparency and teamwork.
Was two fantastic days, where there were exchanges of experiences and networking. I think only two days to be sin, I think three days would be ideal in order to deepen some themes that spoke lightly.
The Exam
This was done online, which consisted of 35 questions covering all topics of Scrum. I did not find the exam difficult, because in addition to the CSM course that helped a lot I already had some background on the Scrum derived of the books I've read.
I firmly believe that this exam is more difficult for people who are accustomed to traditional project management and already has many years of experience with them.
(1) Books that I bought and recommend: