This year the Second edition of LXJS  - a not-for-profit by-the-community and for-the-community international conference about the New Worlds of JavaScript - had place at Cinema São Jorge in Lisbon.
Workshop "Build a baby PaaS with Vagrant, Docker.io and Node.js"
The workshop was given by me and Pedro Dias. It was my first experience giving a workshop at an international conference and was very rewarding because of the feedback from the attendees and especially because it was in my home country.
A big thanks to LXJS for make this happen and to the attendees.
The Welcome Party
The party took place at Hotel Florida and was a really fantastic kick-off for the conference. Fantastic music, wine and food. Was nice to know the faces behind the tweets and to share some thoughts.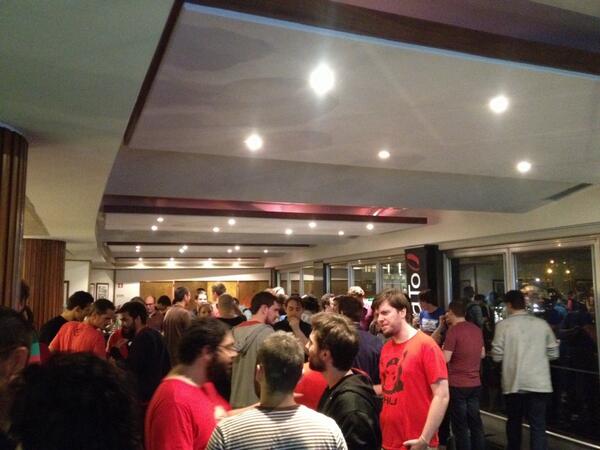 The Conference
What can I say? Two days of fantastic talks with great content delivered and lots of fun.
I could share each video here but instead I will share the link to all talks in the LXJS 2013 youtube channel. Overall I enjoyed all the talks and IMHO the LXJS team did a great job with the schedule and the speakers they picked!
The Farewell Party
The party took place at club ministerium a very cool space with great music and drinks. But IMHO the real Farewell Party was on Friday after NodeCopterLX.
We went out to dinner and about 40 people joined to dinner. I really enjoyed the dinner and was a pleasure to share my knowledge about Portuguese wine and food with the people at dinner.
NodeCopterLX
The NodeCopterLX took place at Salão Nobre in IST a day after LXJS 2013. It was really fantastic being part of the awesome team that make the event happen. Unfortunately I couldn't be there but at least I was able to join at the end of the day to watch the demos.
A big thanks to everyone in the team, our sponsor Flipside and partners Inspiring, IST, ISCTE IUL and Instituto de Telecomunicações. A special thanks goes to Andrew Nesbitt for all the help and for sending the drones to make it happen. Also want to thanks Gilles Ruppert and Felix Geisendörfer for being there and to everyone who attended!
Wrapping up
Doing a brief comparison from the last year LXJS edition and this year I only can say that LXJS team raised the conference to the next level. A trully and fantastic experience with an awesome venue, talks and parties. A big thanks to the LXJS team, they did an amazing job! Congratulations and see you next year.